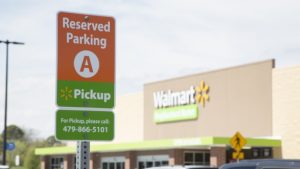 Article brought to you by GSA Business Report (via GSAbizwire.com)
GREENVILLE, SOUTH CAROLINA – Grocery shopping just got a whole lot easier for Greenville shoppers. Walmart, the largest grocer in the U.S., will be launching its online grocery pick up service at four Greenville-area stores starting August 25. The free service enables customers to order groceries online and pick them up at their local Walmart store without even leaving their cars.
"At Walmart, we have always been known for saving our customers money and, with services like grocery pickup, we are also saving them valuable time," said Phillip Keene, Walmart communications director. "Our customers have told us that grocery pick up is a game changer. They are now able to complete their grocery shopping in a matter of minutes – between errands or on their way home from an after school activity – without even unbuckling their seat belts."
Walmart's grocery pickup service features 30,000 items with more than 90 percent of customers choosing to add fresh meat, dairy or produce to their baskets. Other top items selected by grocery pickup shoppers include after school snacks, diapers and large dog food bags. In the Greenville-area stores, Walmart will also offer regional brands and items for pickup as well. All items are priced at the same low prices customers find in their local Walmart store.
 How it Works
Order and Choose a Pickup Time: Customers visit walmart.com/grocery online or through the Walmart Grocery mobile app, enter their zip codes to select a local store and begin creating their shopping lists.  During checkout, they select a time to pick up their orders.
Personal Grocery Shoppers Fill the Basket: Highly-trained personal shoppers carefully select the freshest produce, meats and other items each customer requested.
Pick Up and Go: Once a customer arrives at the pickup location, there will be reserved parking spaces marked in orange, and a designated number to call to alert an associate. An associate will quickly retrieve the prepared order and load it into the customer's car.
Quality Guaranteed
Walmart always guarantees the quality of the food being picked up or purchased in store through its Freshness Guarantee for meat and produce. If customers are unsatisfied with an item, they simply bring back the receipt for a full refund.
Local Stores
 Walmart's Online Grocery service will be available at the following Greenville-area stores starting Thursday, August 25:
Greenville:                   Walmart Supercenter, 1451 Woodruff Road
Anderson:                    Walmart Supercenter, 2003 E Greenville Street
Simpsonville:               Walmart Neighborhood Market, 1401 West Georgia Road
Travelers Rest:           Walmart Neighborhood Market, 9 Benton Road