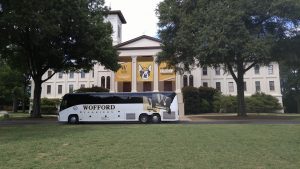 The Terriers return to Gibbs Stadium on Saturday after a pair of lengthy road trips to open the season.
By Todd Shanesy
Finally, a home game.
Wofford, which started this football season with a pair of lengthy bus trips, the last one a nine-hour ride each way to and from Ole Miss, plays Saturday afternoon at Gibbs Stadium against Johnson C. Smith.
"Thank goodness," Terriers head coach Mike Ayers said Monday. "I like our bus driver, Joe, but I've seen him way too much. That many hours looking at the back of his head? I've had my fill of it for now."
Ayers joked that the view out the bus windows wasn't a whole lot better.
"Ole Miss was nice. The venue was beautiful and the people were very gracious," Ayers said. "The only problem is that when you drive to Mississippi, the interstate all looks the same. You've got some pine trees and every now and then an intersection. But there won't be anything at the intersection, so you just keep driving."
Because of the length of the trip home, not making it back until the next afternoon, the Terriers had meetings only and did not go on the field as they usually do on Sunday evenings. They are off on Mondays, which are heavy lab days for students, so there will only be a few practices to get physically ready for Johnson C. Smith, a Division II team from Charlotte and a member of the Central Collegiate Athletic Association.
"We've got to be a good football team," Ayers said. "If we're not, then Johnson C. Smith will come in there and knock our socks off. We have to prepare just like prepared for Tennessee Tech (21-7 win) and Ole Miss (38-13 loss). We need a focus and a desire to get better. We need to eliminate mistakes and do things good teams do."
Two days after the loss in Oxford, Miss., he said he was still disappointed that the Terriers didn't have a better showing. His main irritants were being unable to finish drives, managing only three points on three possessions that totaled more than 21 minutes; and defensively allowing the Rebels to convert 10 of 13 third-down situations, most of which led to a 24-3 score.
"We did some good things on both sides of the ball," Ayers said. "We just didn't do them enough. Some of the guys just didn't play as well as we think they can. And some of it was on us as coaches. Our kickoff coverage wasn't very good (Ole Miss had a 62-yard return). But our punt protection and punt coverage, those guys did a great job. On extra points and field goals, David Marvin (50-yarder) was special. He had a great day. (Quarterback) Brad Butler did a good job again and we took care of the football pretty well again. So there were positive things. I just don't think we're anywhere near our potential yet."